On 3 December 2021, the students of the Jakob-Fugger-Gymnasium, together with their teachers Christina Obermeier and Jürgen Wünsch, visited the Fugger and Welser museum in the city centre of Augsburg as part of their Erasmus+ project. We had the opportunity to join a workshop on the museum's main topic which is approaching history as a scientific discipline from a postcolonial perspective.
After a very warm welcome and an introduction to the museum's concept and facilities, we were divided into groups, and we were allowed to explore the museum and its various sections.
One of the sections raises the issue of wasting precious resources in smart phone production and its dire consequences for our environment. We did a quiz in which we had to find the right fact for different questions. We learned a lot from the quiz. For example, we learned that the production of a smartphone requires 30 different metals.
In another section we learned about the repression of indigenous tribes in the United States of America. For this, the museum has remodelled a room to look like and give the impression of standing on a sailing ship.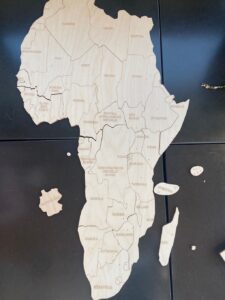 Furthermore, there was a puzzle of Africa, which reminded us of how little we actually know about the continent.
The last section focused on all kinds of discrimination. A specially trained coach conducted a survey with us and we were asked to move about if we agreed to one of the presented theses which were mostly based one's own experiences with the topic of discrimination and social exclusion.
Many of the sections really made us think about the topics and we were all able to discuss various topics together. Unfortunately, not all of the sections could be visited by everyone because of a lack of time.
Finally, we were asked to talk about our experiences with participants from the other group and compare them. All in all, it was truly a different and interesting take on history as we know it from our lessons in school. We were so fascinated by this visit and the things to discover in the museum that we actually stayed 10 minutes longer than we had planned for.