After our visit to Eugeen Van Mieghem's exhibition last November, we knew the story was not yet finished and we could still learn a lot more about this intriguing period of the port of Antwerp.
On 19 April 2022, Investar Fine Arts (which manages the art patrimony of banking and insurance group Argenta) opened an exceptional exhibition that shed new light on links between Van Mieghem and the Red Star Line. In the press, this exhibition was immediately labelled 'Not to be missed'. Indeed, more than a hundred artworks and objects were brought together from all over Belgium. The occasion for this expo was a donation of 18 original works by private collectors and the Van Mieghem Museum to the New York Historical Society. We were the first to arrive and were the first group to visit the exhibition, "Eugeen Van Mieghem: Artist's Perspectives on Red Star Line Emigrants." Once again, the charismatic Erwin Joos was our guide….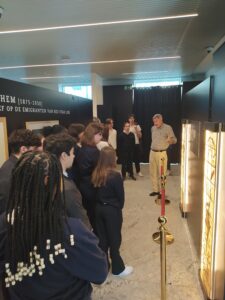 Europe today faces a large number of immigrants. Just over a century ago, millions were leaving our continent. The port of Antwerp, one of the major departure points to the New World, was home to the artist Eugeen Van Mieghem (1875-1930) who drew and painted the mostly destitute emigrants who departed from the port. His work is a unique testimony. It is estimated that between 1873 and 1934, about 2.4 million people (of whom about 35 per cent were Jews) left on the Red Star Line for the New World (America and Canada). In 1893, the shipping company set up a building (at the corner of Rijnkaai and Montevideostraat) for a cursory medical check-up of the emigrants and for disinfecting their clothes and luggage. Right opposite this warehouse, Eugeen Van Mieghem's parents kept inn. Thus, the artist observed the great migration to America and the growth of the Red Star Line first hand.
During the expo, we can see how Van Mieghem captures history with a few strokes of his pencil, on any paper he could find. We see ragged people who had crossed half a continent, running from persecution and poverty. We see waiting people, pacing or sitting on their luggage. They are emigrants in Antwerp, hoping to make the crossing to America on a Red Star Line ship. Drawings more than a century old, but it seems like they were made yesterday in some Ukrainian railway station…
Normally Van Mieghem paints or draws small works, but the exhibition features one large painting that left us speechless. It belongs to Karel Van Rompuy, who bought it at an Antwerp auction in the 1970s. Since then it has been on display at Argenta's headquarters, but never for the general public. What makes the painting so unique is its diversity: you see not only rich and poor emigrants, but also the dock workers and bag seamstresses. Nothing is disguised. You get to see reality as it was then.